THREE HEROS' TALE...

Sprache - Language - Lingua: deutsch | english | italiano | Email
Friday, 17. October 2014
Chapter 315 - crafting with the dragon

DIY automotive industry
the last sun rays of the year can't be taken for granted. so, let's craft! and what could it possibly be, with daddy in the automotive industry? correct: a car. but of course, the dragon had to test the seats before it is actually ready... :) well, but they are together, after all...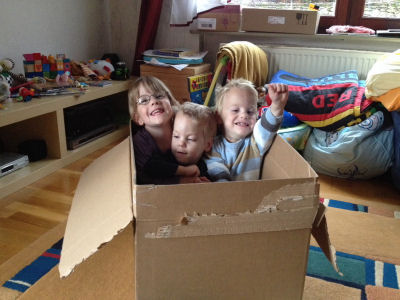 ... link (0 Kommentare) ... comment
Friday, 19. September 2014
Chapter 314 - even more kindergarten, even less kids... :(
what for have a made triplets, huh? if all they ever are is elsewhere? they sleep at night, they are away during the day. and inbetween i gotta go to work... mighty sad, such parent life... :)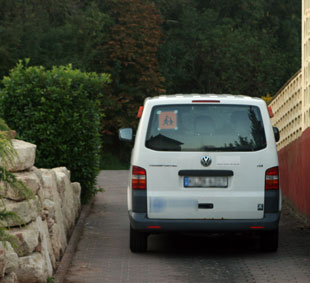 but enough moaned... finally, we are there: our dragon goes to the SAME kindergarten, TOGETHER now! an integrative kindergarten. for thankfully the respective officials have waived the usual obligation that "normal", healthy kids go to the nearest. so now vicky & collin can hang out and enchant the kindergarten teachers together, all at the same place. which not only gives us soome more ease to breath but also makes for a stronger bond in the dragon. and that, after all, is what was intended. still, it is a strange and difficult feeling, when the big white bus leaves out of our driveway in the morning. wet roads, through the woods, 35 long kilometers... makes you wanna grab the bottle and have a stiff calm-downer right there, a true tequila sun-RISE, so to speak. but that is not always practical... :) so, valerian seems to be the cure of choice. at least collin seems to enjoy it: the drivers report that he lives up to his reputation as RADIO COLLIN, the CHEERLEADER & GHETTOBLASTER, and even the traffiic rules i taught him seem to stick: at every red light he informs his surroundings that now one has to stop. well, looks like they are pretty safe, no? let's just not get rid of the valerian alltogether there, just yet... :)
... link (0 Kommentare) ... comment
Thursday, 14. August 2014
Chapter 313 - one couch, one dragon...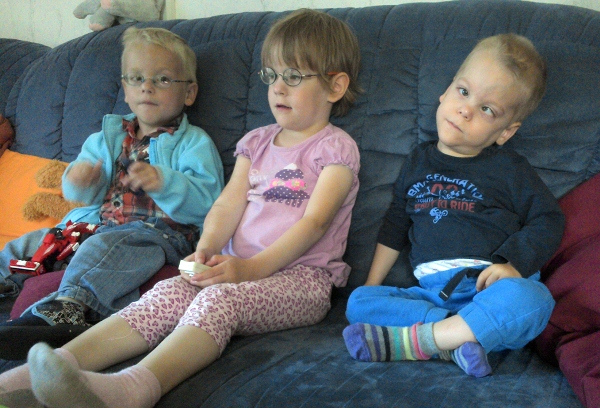 a little instable, sure, but in light of this ground shaking image, who the duck cares?

our dragon sits!
... link (0 Kommentare) ... comment
Monday, 28. July 2014
Chapter 312 - two thirds of the dragon at gramma'n'grampa's
and while our benG was in therapesia, his younger siblings had a good ol' time at the place their daddy grew up at and were in gramma's and grampa's good hands... shooter's festival, city park, icecream, playgrounds, kyffhaeuser, summer sled track, meercat zoo, (indoor)camping, hairdresser's... oh, yeah, and "driving" the race van! :) ladies & gentlemen, the picture we have all been waiting for! :)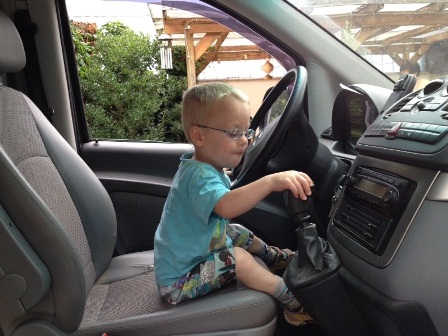 ... link (0 Kommentare) ... comment

Friday, 25. July 2014

kapitel 311 - newsflash from therapesia (V)
or
how quickly 4 weeks can go by...

*** neues aus therapeutistan *** neues aus therapeutistan *** neues aus therapeutistan ***



well, although - of course - it was way too long from a separation standpoint, it is incredible how quickly 4 weeks can pass by when measuring by what all was left undone... but mommy and benG are already and finally back home. and even if the doctors' reports read terribly, benG is fine. above all he could confirm being up to date mentally. he knows virtually all his colors, he answers questions by pointing at pictures, he finds his animals in the picture book and points them out... so, basically everything just like his younger siblings, maybe even a tad better than collin. but the maledict motorics..! this chapter is just one long shopping list... orthesis, special stroller, special seat, special shoes with special inserts, galileo-shaker... but maulbronn has - as expected - done miracles, yet again! benG brings his right hand into play a lot more now, is able to hold his head far longer straight, does not need any more special foods and has started to build up some leg muscles. we are still positively convinced that he will catch up one day. and even if that would take a long time and be pretty hard, our beloved benG gives us more than enough hpe and motivation... see for yourself:


... link (0 Kommentare) ... comment

Tuesday, 1. July 2014

Kapitel 310 - newsflash from therapesia (IV)
oder
BIG MACK, standing ovations and the worldcup in tight places...

*** neues aus therapeutistan *** neues aus therapeutistan *** neues aus therapeutistan ***



finally, finally we made it! the dragon is back in maulbronn, at least one third is, the most needy third. mommy went to the sanitorium with benG - 4 long weeks! and everything else gets stuck in my lap, maturally, notoriously! but hey, i grow with my challenges! :)

anyways, they are gone for a week by now, and there is exclusively good news: benG loves, for instance, to go to the kindergarten they have there (after all, the mommies are at the sanitorium! :) ). other kids seem to be great fun for our firstborn! and finally he learned what a BIG MACK is. a little different than you may think, even you michiganers out there! [ :) ] to benG, a BIG MACK is a big round red button, a push button, an electronical one. one can record and play back voice and speech with it. and that is then integrated into games teaching and verifying cognitive understanding - a sport in which our oldest naturally excels... :)
and he even has an orthosis, leg braces now, to help him stand up - YEAH! so the time of lying and sitting around all day should (relatively!) soon be over, too! standing up is practiced in front of a mirror, by the way. because IF other kids are great fun, AND the little guy over there looks like benG and even makes the same moves, that HAS to be motivating, right? well, hopefully that strong combo will result in some more muscles, so little benG will be big benG soon! :)

and the mommies are watching FIFA worldcup. the lot of them! in the tiny parents' room. sort of a phone booth with a TV. probably even germany's mueller, schweinsteiger and klose would have a hard time catching a ball from them in there! :)




... link (0 Kommentare) ... comment

Wednesday, 18. June 2014

Chapter 309 - surgery over, patient sleeping :)

well, everything went well, ears are still there, functionality improved, everything's fine. just a little exhausted and tired, but that is just normal... now he is sleeping, our sweet eldest...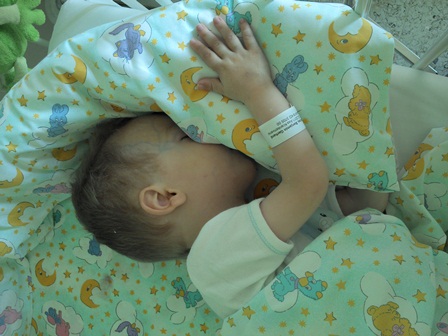 and thank you all for keeping your fingers crossed! wasn't really all that difficult this time, i mean, by comparison... you have been through a lot worse... :)
... link (0 Kommentare) ... comment
Monday, 16. June 2014
Chapter 308 - straw widower, holiday camp & therapeesia
well, finally we made it! patiently through one of the longest waits. again. our benGee has another scheduled term in maulbronn. we recap: the place where monks with eleven fingers fool the good lord by drinking 10% more alcohol and hiding meat inside batter pouches during fasting - but where these days real miracles are performed on little development-needy dragons. we are mighty excited. not only, but at the moment predominantly because of the logistical nightmare, erm challenge this presents us with. the bigger the army, the bigger the baggage train, the slower the maneuverability. but with the help of our "allies" this will be far from impossible. the other two dragon heads will go to gramma and grampa, along with the furry child and our little helping hand, and i'm gonna handle the rest here at home land security. :) every task finds the one that can solve it. :) i will keep you posted, in any event.

wish me luck (or come on over, there is lots that needs to be done!) :)



... link (0 Kommentare) ... comment
Chapter 306 - 4 birthdays, 10 legs and 21 years!
as you all know, last friday, the 13th, would have been our dragon's birthday, three years ago... they would have been 9 years together. theoretically.

practically, our other child, the oldest with the black thick fur, is turning 12 on this here very day, today! what a biblical age for a rottweiler! so, together they are 21 years old! if that is not a reason to celebrate, nothing is! legal age? at least on average: one grandma and three little snoopies - who are on their way to a handful!

NO, i am NOT complaining, just stating. never would i ever admit that a dad's life is anything but perfectly peachy! everything under bestest control! :-P



... link (0 Kommentare) ... comment
Chapter 305 - oh no! somebody deleted the internet...
playing the fourth wise monkey (suspect no evil) i went to our blog today and found not a single picture. i mean i went back to the far edge of time, still nothing! the blog owner blames 2 harddrives that bit the digital dust: everything is gone. 40GB! now, i am not quite the most orderly blogger, so it will realistically take me a moment to get everything back. believe you me, it is more than a matter of opening a folder and uploading stuff back into place. but i'll start from the end, so it will look slicker... *sigh* i was late without this accident...

well, just letting y'all know...



... link (0 Kommentare) ... comment